Providers' Network Inc.
Member Agencies
---
Maple Leaf Services, Inc.
100 Main 2 SE, PO Box 686
Preston, MN 55965
507-765-2107
Dean Aug – Director
Maple Leaf Services provides Residential Services, In Home/ Family Support and Employment Services to individuals with developmental disability throughout Fillmore County.
Our sites are located throughout Fillmore County with licensed residential sites in Preston, Harmony, Rushford and Spring Valley; as well as in-home support in additional communities and rural areas.
---
Bear Creek Services, Inc.
3108 US Hwy 52 North
Rochester, MN 55901
507-288-7195
Linda Driessen – Director
The mission of Bear Creek Services is to provide personalized community life experiences for individuals with developmental disabilities and brain injuries.
Our programs include:
Residential supports: We have 12 community based residential homes and 4 apartments that provide 24-hour residential care settings. This program includes comprehensive health care services.
Independent Living Services: 2 training apartments and 1 training townhouse that teach individuals the life skills that they need to live independently.
Semi Independent Living Skills (SILS) and In-Home Support: Designed to provide people who have disabilities with various levels of support that match their needs – while living at home.
Supports for children and young adults: In partnership with the Rochester Parks & Recreation Department, we host various educational and social programs for 270 children and young adults who have developmental disabilities.
---
Home & Community Options, Inc.
66 East 3rd Street
Winona, MN 55987
507-452-1021 Ext. 9527
Suzie Horstman – Director
Home and Community Options, Inc., provides support and residential services to people with developmental disabilities. The programs of HCO include 24-hour residential care settings (including homes with smart home technology), a 24-unit apartment complex, programs to support people who live semi-independently, and support services for those who live with their families. All services are designed to build skills, maximize growth, and allow individuals to maintain both independence and self-sufficiency. In-home services and two resource homes are also available to give family caregivers a break by providing respite care to individuals when they are away from home. Our fundamental goals are to provide quality services that maximize independence and allow individuals to live happy and productive lives in the community close to family and friends.
---
Laura Baker Services Assoc.
211 Oak Street
Northfield, MN 55057
507-645-8866
Sandi Gerdes –  Director
Laura Baker Services Association is a superior provider of housing and other support services for individuals with intellectual and developmental disabilities. Our mission is to respect the life choices and dreams of people with developmental disabilities and help them reach their goals. Understanding that the needs of each individual are unique, we empower families to choose from a continuum of care that will support their loved ones in leading fulfilling lives.
---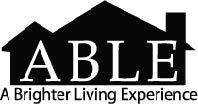 ABLE, Inc.
1700 Lancer Blvd.
LaCresent, MN 55947
507-895-8111 Ext. 1102
Gail Meyer – Director
ABLE is a non-profit corporation incorporated in 1979 for the purposes of providing residential living support for persons with developmental disabilities and related conditions within Houston County. The corporation is a consumer driven organization with a volunteer Board of Directors. The agency strives to uphold the following mission:
It is the mission of ABLE to assist people with developmental disabilities to live successfully in their own homes.
Our commitment is to provide services that ensure every individual's right:
to live in a safe and comfortable home;
to reside in a community where personal relationships with family, friends, and neighbors can grow
to receive services that enhance abilities and respond to needs;
to receive respect and support in making decisions concerning relationships, careers, and lifestyles.
ABLE strives to provide an array of service options for the citizens of Houston County in order to ensure that all persons can grow and live in home environments in a community integrated setting.
The following service options are available:
ICF\DD
ABLE operates two intermediate care facilities for persons with developmental disabilities (ICF/DD). These homes provide 24 hour support for persons with an array of disabilities. Both homes can serve those who are non-ambulatory and require extensive support.
Corporate Foster Care Settings:
These settings provide supervision and support for one to four individuals per home. Staffing can vary from sleep-in supervision at night to around- the- clock awake staff. The agency currently has licensed foster care homes in La Crescent and Caledonia.
Semi-Independent Living Services (SILS):
Some individuals, as adults, have the capability of living in their own home/apartment with minimal assistance. ABLE can provide supported living services for persons who need daily assistance, but do not require extensive supervision. Staff persons make on-site visits to the person's home and assist them with support in skills of daily living. Support varies depending on the need of the individual.
In-Home Family Support Services:
ABLE provides services to children and adults who continue to live with their family. This service is tailored to individual and family needs. The program strives to assist the family unit by providing support, consultation to family caretakers, and specialized services. Trained staff assist the family with the needs of the person with a developmental disability, striving to make the home environment the ideal environment for the person to grow and maintain relationships with their family.
---
Alpha Services Company of Rochester
3261 19th St. NW
Rochester, MN 55901
507-252-8117
Dr. Aderonke Mordi – Director
Alpha Services provides residential care services to individuals who need supportive and health services provided in a residential setting. Our services include:
Up to 24 hour supervision
Meal preparation
Individualized home management tasks
Socialization
Assistance in setting up meetings and appointments, arranging medical and social services as well as the management of personal funds
Coordination or providing transportation
Dressing, grooming and bathing
Medication management which include storage, administration, and reminder
---
Hiawatha Homes, Inc.
1820 Valkyrie Dr. NW
Rochester, MN 55901
507-289-7222 Ext. 412
Cindy Ostrowski – Director
Hiawatha Homes, Inc.provides residential and community-based services to people with disabilities in Olmsted County. In addition to 22 community-based residential homes, we operate a family support services program including in-home support, LEEP (Life Enrichment and Exploration Program), SKIP (School-Aged Kids Interaction Program), and respite services. Hiawatha Homes, Inc. supports children, adults, and families with:
Developmental disabilities
Physical health needs
Brain injury
Specialized medical needs
Autism spectrum disorder
Emotional and behavioral health needs
---
Cardinal of Minnesota, Ltd.
3008 Wellner Dr. NE
Rochester, MN 55906
507-281-1077
Michelle Priggen – Director
The mission at Cardinal of Minnesota, Ltd. is 'to provide a safe and happy living environment' to individuals with a wide variety of needs through Adult Foster Care, In-Home Supports, and Semi-Independent Living Services. Since 1995, Cardinal's dedicated staff of 'Delight Specialists' has built a reputation throughout Minnesota for using a strong culture and values driven approaches when providing specialized services such as Life Skills Development, Positive Behavioral Support Plans, Financial Management, Medication Management, and Coordinated Medical Care just to name a few.
---
ARSYS, LLC.
3153 Superior Dr. NW
Rochester, MN 55901
507-536-9221
Kevin Smith – Director
Kevin Ward – Director
ARSYS provides In-Home Family Supports, Respite Services, and Residential Services to Adults and Children with Disabilities. We also provide In-Home Family Services to individuals with Behavior and Mental Health needs.
We provide In-Home Support Services, residential homes to support persons in the Rochester and surrounding area, and we also have an office in Blaine, MN which provides In-Home Family supports for persons in the Twin Cities Metro area.
---
REM River Bluffs
1621 10th St SE
Rochester, MN 55904
507-287-6824 Ext. 2516
www.remminnesota.com/rochester/
thementornetwork.com
Wade Welper – Director
For more nearly four decades, REM River Bluffs, Inc. (or "REM") has been an active participant in the provision of services and programs to individuals with developmental disabilities. The company began service delivery in the state of Minnesota in 1967, when it opened its first community-based ICF-IDD for individuals who were then leaving the State's developmental centers. Based on the vision and commitment of Robert E. Miller, for whom the company is named, each REM program is designed to meet the needs of the individual, coordinating his or her strengths with the supports available in the community.
A trailblazer in the de-institutionalization movement in the state of MN, REM has since expanded and enhanced its programming to build a coordinated network of services and supports. We expanded even further when we became part of The Mentor Network (our national parent company) in 2003, although REM Minnesota remains the top leader within this network of programs.
REM's mission is to create a culture of support to assist individuals in gaining the life they value by providing options for living in the community. REM was founded on the belief that individuals should have the opportunity to receive services and supports in their own communities, regardless of the complexity of their condition, severity of their disability or challenges in their behavior. We endeavor to offer strong supports for attaining interdependence and ongoing opportunities for personal growth.
REM believes that for any individual to achieve full integration into their community they need to develop interdependence. Based on that belief, we seek to create a circle of supports that will enable each individual to realize the life they choose, balancing "important to" with "important for". In looking for more cost effective opportunities to serve individuals in less restrictive settings, many factors are taken into consideration. Planning starts with the individual in conjunction with their team.
Throughout Olmsted and Winona Counties, REM River Bluffs serves approximately 300 individuals, many of whom have a dual diagnosis of a mental illness, traumatic brain injury, chemical health, intellectual disability or another pervasive developmental disorder and may qualify for CADI, TBI, Elder, or DD waivers.
Delivered under contract, current service options within REM River Bluffs include, but are not limited to: adult foster care arrangements, 40 group homes, periodic/hourly support in individual's own homes, Children's after school/summer services (CROCS), a Board and Lodge for adult males, Respite services, 5 alternative service apartments focused on learning independent skills, and 4 Intermediate Care Facilities (ICF-IDD). Within the waiver homes operated, we have specialty homes that include: Brain Injury homes, Mental Health specialty homes, Dialectical Behavior Therapy (DBT), High medical needs, Autism, Children's Behavioral, and Offender services specializing in sex offenses. The options vary based on the needs and desires of the person served. Often the individual will move through a continuum of services as their strengths grow and their need for supervision and support decreases or
---
Riverview Services, Inc.
750 3rd Ave
Wanamingo, MN 55983
507-824-2091 Ext. 505
Malissa Parrott-Stahnke – Director
Riverview Services, Inc. provides home and community based living services for people with disabilities and special needs. We provide an environment where people are able to achieve their highest level of independence. We currently service 7 HCBS homes, in Goodhue County, that houses 26 residents (from many other counties as well). We've kept our company small since 1978, for the purpose of- the greatest specialized and person centered care possible. We also provide in-home services and respite care to many individuals in Goodhue County and surrounding area communities.
Our HCBS homes house adults 18 and up.
We service adults and children with- in-home services and respite cares.
---
Lutheran Social Service of Minnesota
935 Amble Rd
Shoreview, MN 55126
651-485-2592
Joyce Hagen – Director
---
Great River Homes, Inc
611 Broadway Ave, Suite 105
Wabasha, MN 55981
651-560-4801
Cari McCann – Director
Our Mission Statement
The mission of Great River Homes, Inc. is to improve the lives of people with disabilities in Wabasha County by providing person-centered services.
Our residential and in-home services include:
Supported Living Services
In-Home Family Support Services
Personal Support
Respite Care
Independent Living Skills
Semi-Independent Living Skills
---